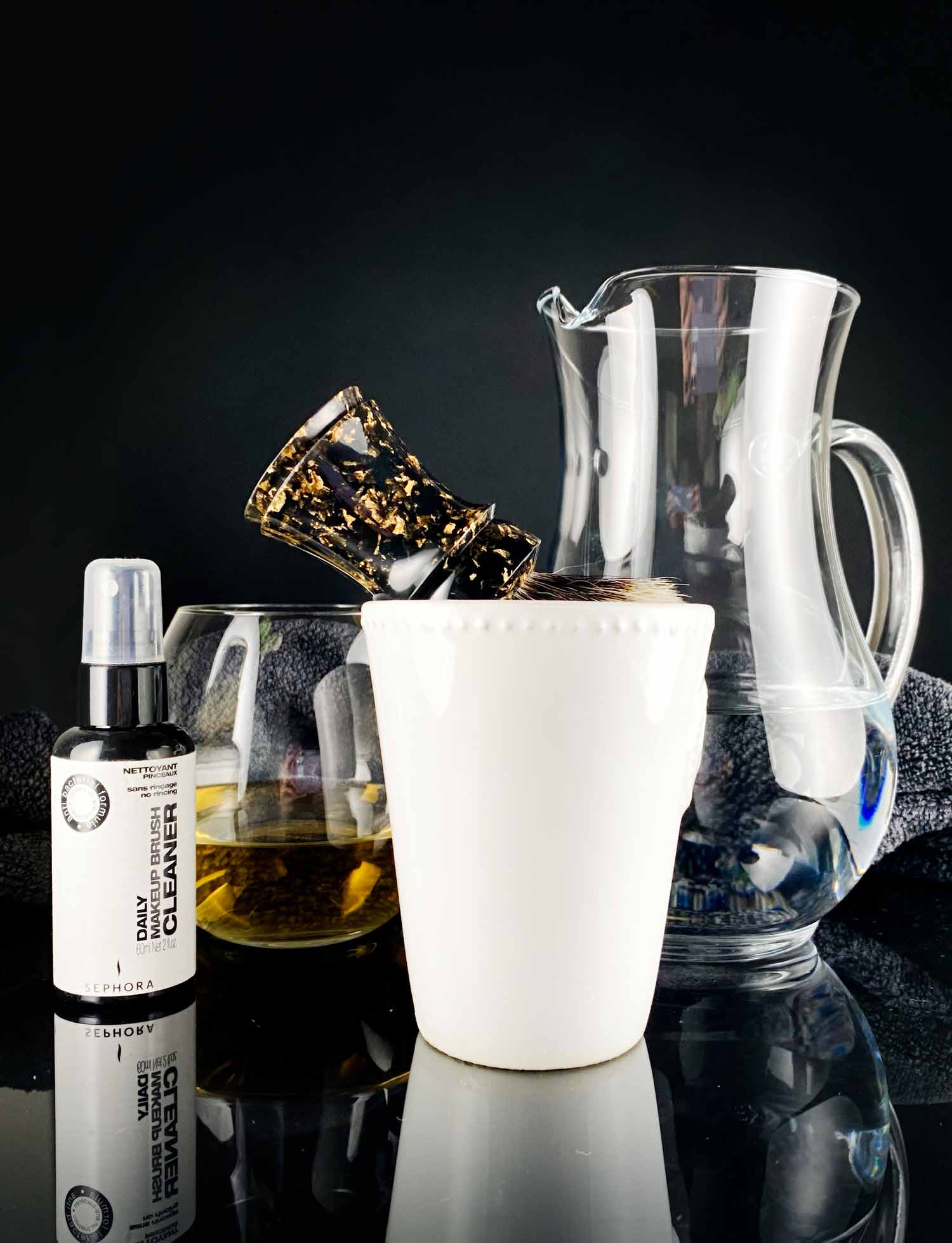 How to Clean a Shaving Brush
To achieve a perfect shave you have to make sure all your tools are clean and this includes your brush too. If you are wondering how to clean a shaving brush, here's a few hints to make your shaving brush lasting and performing.


How to clean a shaving brush: what you need.
There are many different ways you can clean your brushes and even dedicated products to use. However, you can achieve a deep clean even with household materials you already own.
Mild Detergent
OR Make-Up Brush Cleaner
OR White vinegar/apple cider vinegar.
Whatever ingredient you have, if your tap water is hard, consider to use warm, distilled water: the minerals contained in your tap water may eventually harden and become hard-to-remove residues on your brush, and if the water is too hot it could ruin the glue base of the bristles.
Let's see in depths how to clean a shaving brush with some common household materials you could already have at home.
Using Mild Detergent
How to clean a shaving brush with a mild detergent? This is the first and most straightforward method you can use to give a deep clean to your shaving brush: any mild detergent, like dishwashing detergent or baby shampoo will do.

Create a very diluted mix of warm water and a few drops of detergent, mix them up in a cup where your brush can fit and stand upside down and then soak your brush in it.
Let it sit there for about five minutes, agitating it from time to time with little swirls around in the mixture. Don't forget to press down gently too so that the mixture can reach the base of the bristles and remove the soap residues at the base of your brush.
Then remove the brush and rinse it well, until there's no more soap in it. Finally, gently rub the brush on a dry towel and let it air dry upside down. This will allow the bristles to dry in a natural way and prevent water settling in the base of the badger hair bundle.
Using a makeup brush cleaner
Let's now discover how to clean a shaving brush with a makeup brush cleaner.
If you have a family member that is into make-up, there are probably makeup brushes around and eventually also a product to clean them. That product could be use for shaving brushes too as they are often just mild detergents.

Just remember that the technique to clean makeup brushes and shaving brushes is a bit different: unlike makeup brushes, shaving brushes require a deep, into the bristles cleaning, as the soap often reaches the base of the knot. 
Use a few drops (or a spray) of makeup brushes cleaner over the wet bristles of your brush, massage them gently to create a light foam and lightly run your fingers as deep in the bristles as you can.
Then rinse it well and squeeze the knot until the water is clear. Finally, rub it gently on a towel and let it air dry overnight upside down on a stand.
Using Vinegar
Another pretty simple and popular method to clean a shaving brush is using apple cider vinegar or white vinegar. It is a cheap, yet effective method that really breaks down the build up and residues of the soap that could be trapped in the bristles of your brush.
So, let's get to how to clean a shaving brush using vinegar.
In a mug or cup wide and tall enough for your brush to stand upside down, create a very diluted solution of water and vinegar. Then soak the brush in the cup, swirling it around a bit to really let the mixture penetrate into the bristles. Use also a pumping motion from time to time to reach the base of the bristles.
Let the brush soak in the solution for 10 minutes, then remove it and give it a very good rinse. Finally rub it on a dry towel and let it air dry upside down on a stand.
When to clean a shaving brush
When it comes to a brand new brush, depending on the bristles and on the manufacturing process, you could maybe feel a subtle smell. A good wash before your first use is usually recommended. Bear in mind that you won't need to do so with Leonidam shaving brushes as all the knots are pre-washed before packaging.
For the brushes you already own, consider to thoroughly rinse them after each use in running warm water. Be sure to remove any excess of soap as the residues will eventually dry and it will be harder to remove them afterwards.
After the rinse, squeeze the knot, rub it gently on a towel to remove excess water and hang it upside down to air dry. 
The frequency of a deeper clean really depends on how often you use the brush, the hardness of your tap water and the shaving products you use.

The most important feature of the bristles, in order to create a rich lather, is their ability to retain water. If the hair eventually get coated with oils, contained in some shaving products, they could lose their water retention properties and it will be difficult to create a satisfying lather.
The final touch after a deep clean
As a finishing touch after you deep cleaned your brush, you could use some hydrating hair conditioner.
After you cleaned and rinsed your brush, pour a nutshell of conditioner right on the bristles and work it with your palm and fingers into them. Rub it well to reach all the bristles down to the knot and finally rinse it off.
Then rub it gently on a dry towel and let it air dry upside down on a stand.
Your shaving brush is now ready for new, amazing shaves and you'll be pleased to rediscover its softness and performance as the first time you used it.
Those were some useful tips on how to clean a shaving brush with some common household materials to bring it back to its original conditions.
You will be amazed to rediscover the softness and performance of your brush after a deep clean, whatever method you use.
Do you own a Leonidam brush? Share your shaves pics on
Instagram
,
Facebook
or
Pinterest
.
Happy shaving!